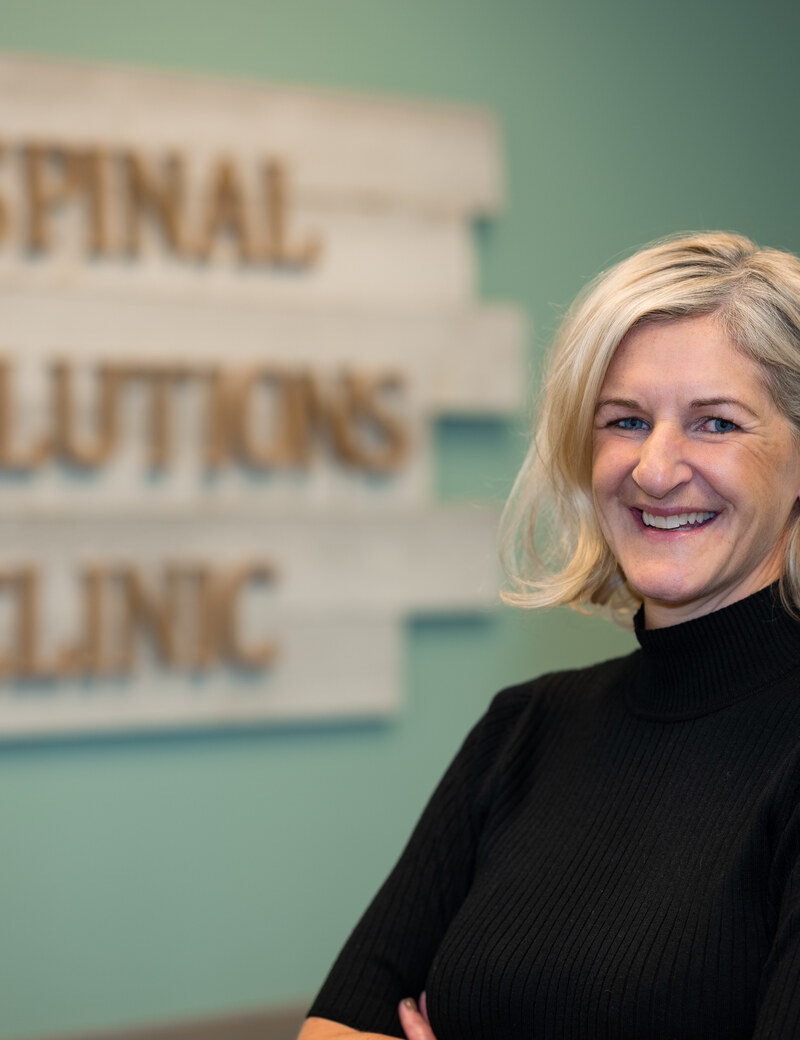 Dr. Cheryl Wahrenburg
B.Sc., D.C.
Chiropractic
Dr. Cheryl Wahrenburg, B.Sc., D.C. is the owner/operator of Spinal Solutions Chiropractic Clinic. With over twenty years experience she is well versed in the effective treatment of neck and back pain, resultant from motor vehicle accidents, workplace injuries, and most commonly, injuries resulting from repetitive strain through our daily activities.
When designing the name of the clinic, it was important to Dr. Wahrenburg to stand up to the mission statement: Spinal Solutions: We Have the Solutions to Your Back Pain. Chiropractic, massage therapy and acupuncture treatment are an integral part of your healing process; however, she firmly believes that empowering the individual with the tools to take the pain away at home and at work is also imperative.
Running a busy practice, being a wife, and mother of two teenagers, and living with MS, she knows the importance of taking care of your health and your back. Having been diagnosed with a chronic neurological disorder, she can empathize with patients in chronic pain, and understands the value of a healthy life balance; including work, exercise, rest and family life.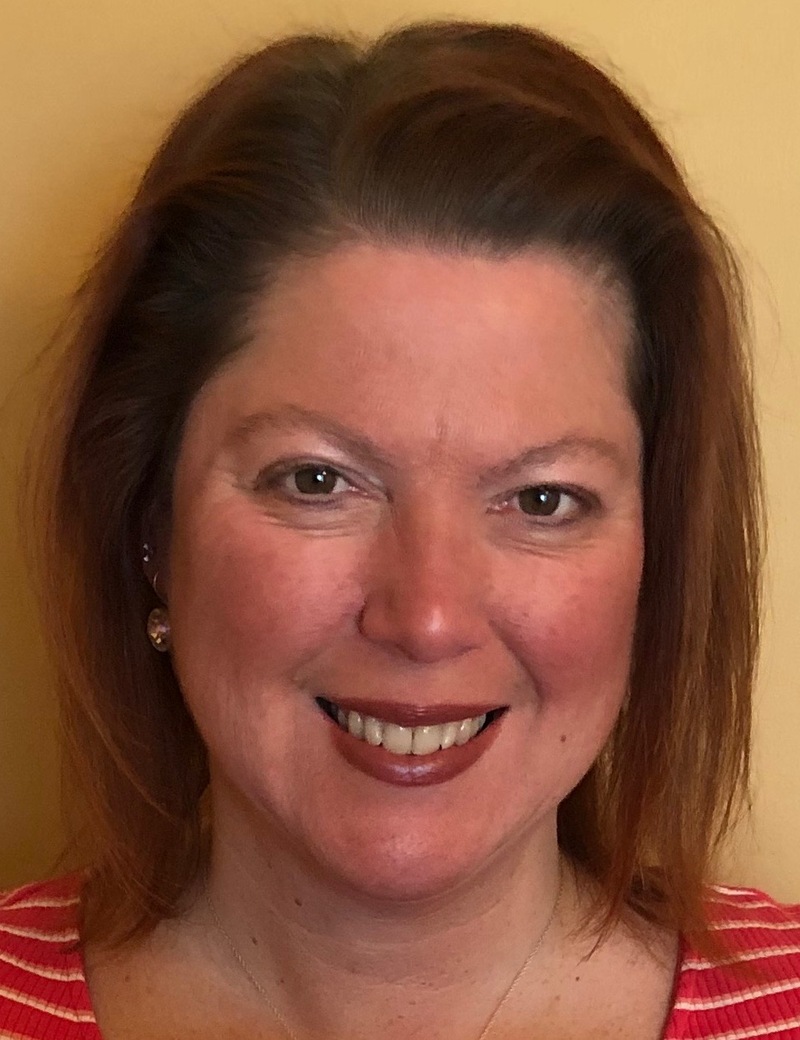 Dr. Lori Head-Reid
B.Sc., D.C.
Chiropractic
Dr. Lori Head-Reid, BSc. (Hons.), DC, graduated from the Canadian Memorial Chiropractic College located in Toronto, ON, in 2000, after graduating from Memorial University of Newfoundland with a Bachelor of Neuroscience (Honours) in 1996. She has 20 years of experience practicing as a Chiropractor in various clinics in the St. John's and Paradise regions since 2000. She is very interested in ergonomics and posture, and incorporates advice on these in addition to chiropractic adjustments and soft tissue techniques, into individualized treatment plans for patients for the effective treatment of repetitive strain injuries, motor vehicle accident injuries, and workplace-related injuries. She regularly participates in continuing education courses in Radiology, Clinical and Rehabilitation Techniques, as well as Ergonomics. She is a member of the Newfoundland and Labrador Chiropractic Association, the Newfoundland and Labrador Chiropractic Board, the Canadian Chiropractic Association, and the Canadian Chiropractic Protective Association. She has also served as a Past Secretary on the Newfoundland and Labrador Chiropractic Association Executive in which she received an award for Distinguished Service. She has also previously volunteered with the Mt. Pearl Lions Club, the Mt. Pearl Santa Claus Parade, the Mt. Pearl Frosty Festival Battle of the Bands (co-chair), as well as previously volunteered her chiropractic services at events including the Scott Tournament of Hearts in St Johns, and the Triathalon in Paradise. In her spare time, she enjoys spending time with her husband Robert, three- year- old son, Colby, and her ten- year old dog, Miley, as well as travelling, cruises, attending music concerts.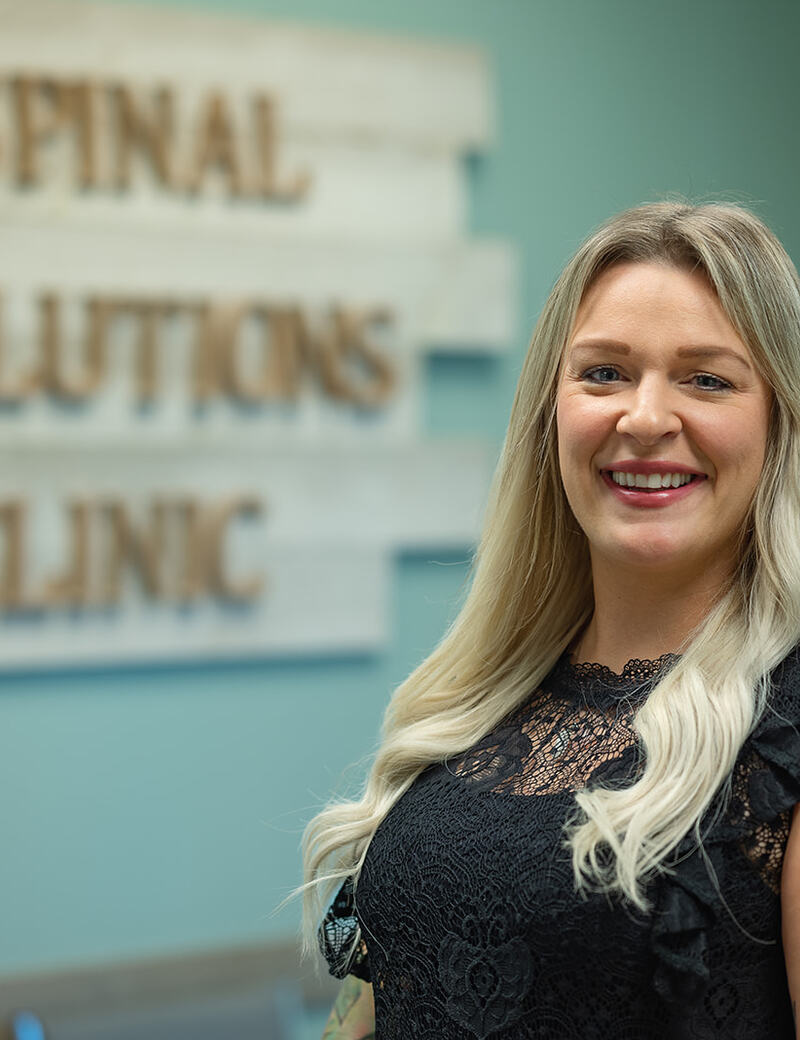 Holly Guiney
RMT
Massage Therapy
Holly Guiney is a registered massage therapist with the CMTNL and the NLMTA. She graduated from the 2200 hour massage therapist program at Eastern Academy in St. John's. Holly uses techniques such as deep tissue massage, Swedish, relaxation, myofascial release and neuromuscular facilitation. Her seven year background as a level two registered dental assistant has influenced her passion and knowledge in the treatment of temporomandibular disorders (TMD). Holly takes great pride in getting to know each patient's therapeutic needs and effectively designs specific treatment plans to address and aid in the prevention and relief of pain and discomfort.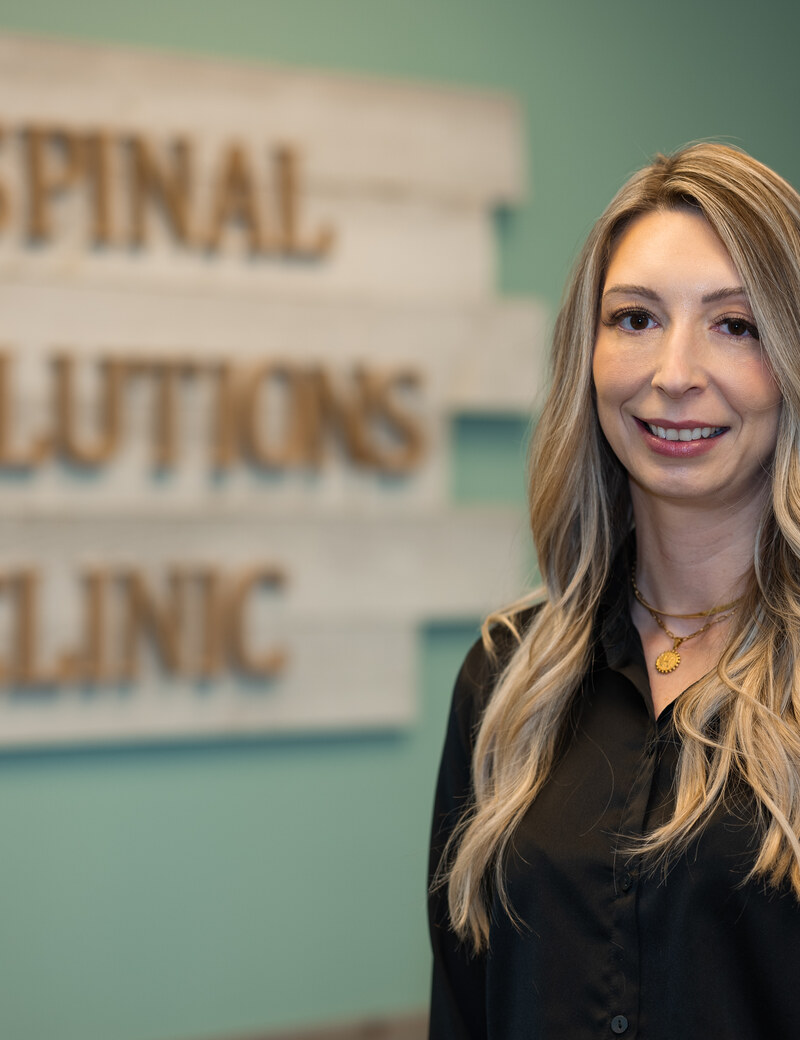 Holly Hemmeon
RMT
Massage Therapy
Holly graduated from Eastern College's Massage Therapy program in July, 2010. She immediately started her career at Spinal Solutions Chiropractic Clinic upon graduation. She holds an active membership with both the Newfoundland Massage Therapy Association and the College of Massage Therapy of Newfoundland and Labrador.
Holly treats a wide variety of clientele, including those suffering from work related injury, repetitive strain injuries and motor vehicle accidents. Her techniques include deep tissue massage, cupping, trigger point release, and myofascial therapy. Holly is also a trained Graston Technique Provider.
In her spare time, Holly enjoys living a healthy and active lifestyle; traveling; spending time with family and friends, and her French Bulldogs Norman and Penny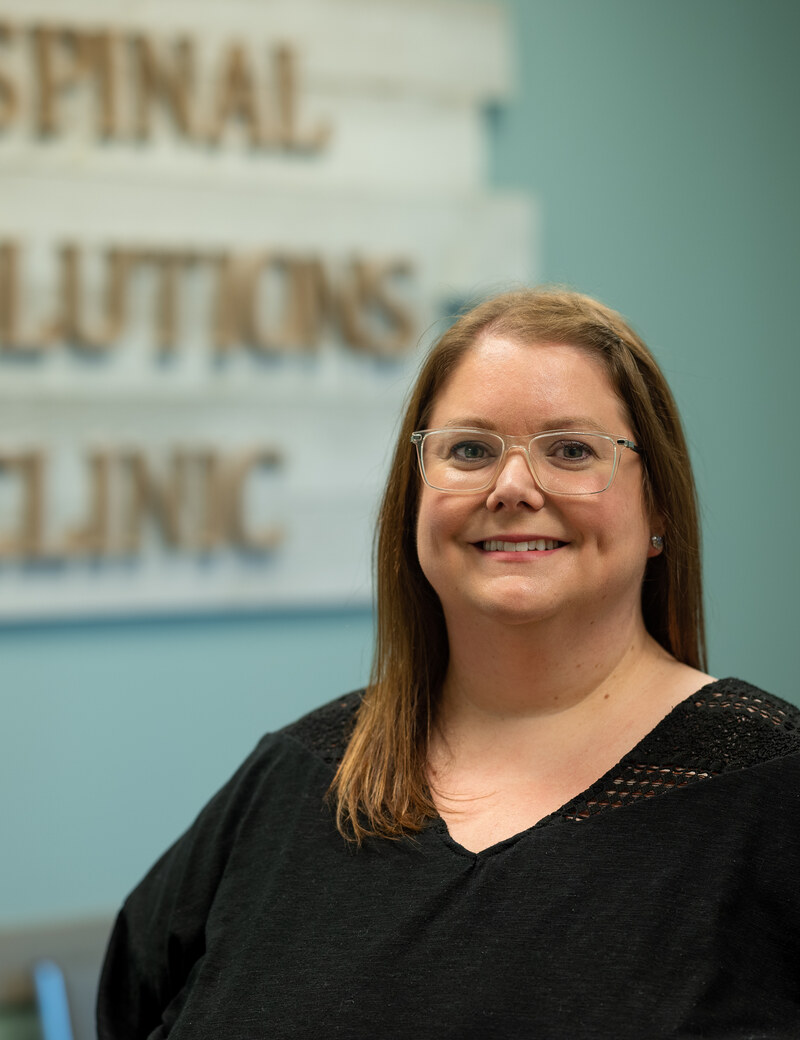 Laure Slade
R.Ac.
Acupuncture
Laure has graduated, with honours, from the Acupuncture Program at Eastern College in 2009. Laure has provided Acupuncture and Traditional Chinese Medicine in Paradise since 2011.
Laure loves a multi-disciplinary approach to treatment, and being able to network with other health care professionals to facilitate the best care outcome for her patients.
Laure has extensive experience clinically treating tension type headache, migraines, anxiety, stress, digestive complaints, skin disorders, infertility in male and female patients, joint pain, arthritis, & sprains and strains.
Furthering her specialty in musculoskeletal disorders, she has completed courses in pain management, ear acupuncture, as well as advanced needling technique.
Laure recently completed courses that specialize in back, neck and TMJ dysfunction caused from poor body mechanics/ergonomics.
Along with her trigger point release treatment techniques, she also uses other hands on techniques to maximize overall treatment outcomes; including cupping, gua sha, topical herbs and other TCM modalities.
Living in CBS, she enjoys camping, hiking, or anything outdoors and loves her precious fur baby Gracie.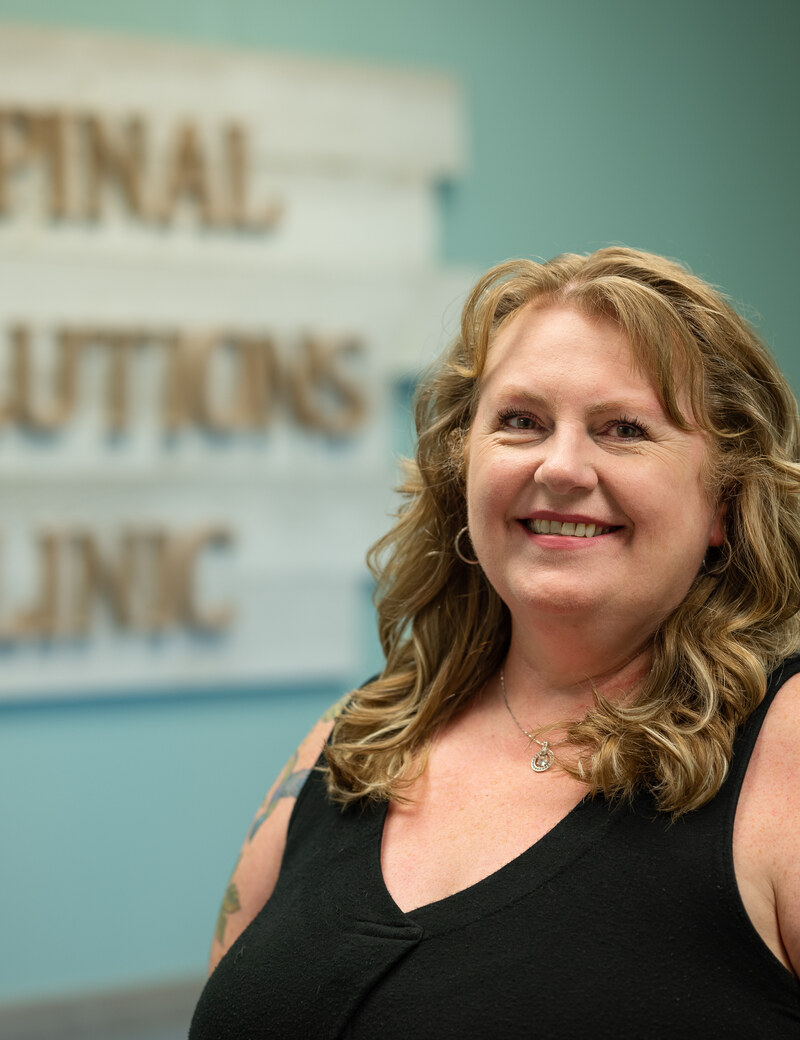 Pamela Frampton
RMT
Massage Therapy
Pamela graduated with an Honours Diploma in Massage Therapy in 1998. She is a member in good standing with both the Newfoundland and Labrador Massage Therapy Association, and the College of Massage Therapists of Newfoundland and Labrador. Pamela is Past President of the NLMTA, after having served as a Director for 4 years and Vice President for 2 years.
She specializes in treating conditions related to both chronic pain and acute injuries. In her spare time, Pamela enjoys reading, kick boxing and spending quality time with family and friends.