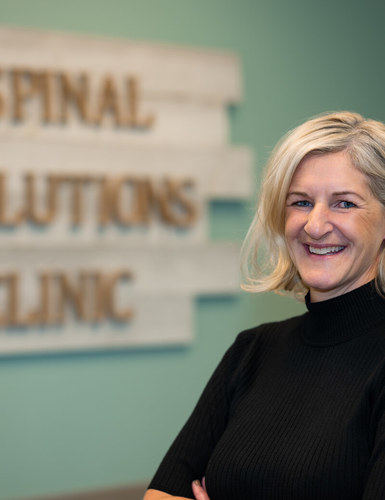 Dr. Cheryl Wahrenburg, B.Sc., D.C. is the owner/operator of Spinal Solutions Chiropractic Clinic. With seventeen years experience she is well versed in the effective treatment of neck and back pain, resultant from motor vehicle accidents, workplace injuries, and most commonly, injuries resulting from repetitive strain through our daily activities.
When designing the name of the clinic, it was important to Dr. Wahrenburg to stand up to the mission statement: Spinal Solutions: We Have the Solutions to Your Back Pain. Chiropractic and massage therapy treatment are an integral part of your healing process; however, she firmly believes that empowering the individual with the tools to take the pain away at home and at work is also imperative.
Running a busy practice, being a wife, and mother of two children, and living with MS, she knows the importance of taking care of your health and your back. Having been diagnosed with a chronic neurological disorder, she can empathize with patients in chronic pain, and understands the value of a healthy life balance; including work, exercise, rest and family life.